Joseph and Pierre Mougin
Joseph (1876 - 1961) and Pierre Mougin (1880 - 1955), ceramists and sculptors from Nancy, were contemporaries of the Ecole de Nancy and the development of Art Deco. The "passion of fire" which quickly seized the two brothers influenced them all through their lives.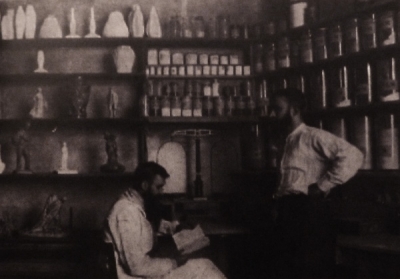 Fascinated by science, horticulture and marine biology, young Joseph Mougin seemed predestined to themes related to what would become Art Nouveau from Lorraine. After art studies from which he kept many influences, especially thanks to his teachers (Bussiere, Bergé ...) and peers (Lemarquier ...), he discovered his vocation during a posthumous exhibition of great ceramist Jean Joseph Marie Carriès. As for Pierre, who admired Sarah Bernhardt's talent, he took acting classes to prepare for the Conservatory, but soon left to be seduced by the enthusiasm of his brother, without knowing at that time that this passion would last him all his life long.

The early works of the Mougin brothers combine crystallizations with glazes, demonstrating a keen sense of details, while preferring the lyrical realism. For the first part of their works included in Art Nouveau, it is between vegetable naturalism resulted in the sandstone, and female symbolism such as porcelain figures that both brothers express their art. This dichotomy can also often be found in a single work, especially under Joseph's influences such as Injalbert, Max Blondat, Rops, or his close friend Victor Prouvé for whom the artist feels great admiration.
| | |
| --- | --- |
| | |
At the end of the war, the unfavorable economic context makes the sale of Mougin's works complicated. That's why Fenal's proposal of hiring them at Luneville's earthenware factory comes like a great chance for both brothers. Mougin brothers don't care abour labels, they act both as artists and as craftsmen, both as ceramists and as sculptors... After spending several years working with the greatest artists from the Ecole de Nancy, they experiment the promising potential of Art Deco. Enjoying living and working luxury in Luneville, they start to use geometric shapes, sewage lines, simplified volumes... The artists meet a milestone in their work but also in their lives. Because in return, the two brothers have an obligation to set mass production for some of their works.

Mougin brothers have produced many artists works throughout their lives. As complete artists, they are trained on all stages of their art from the preparation of raw materials to the delicate cooking step. By leasing their services to other ceramists, Joseph and Pierre Mougin can get enough money to urvive while making the long and costly research work on their own productions. Among the artists who were published by Mougin, there are major figures of the Ecole de Nancy such as Bussiere and Barrias, former teachers of Joseph. Close friends of the brothers too: Victor Prouvé, Wittman, Majorelle... But also many artists from Art Deco were edited at Luneville's manufactory : Conde, Goor, William, Ventrillon brothers... Mougin brothers also made numerous reproductions of museum works, most of them masterpieces of the history of art. Their work got a lot of attention from the bourgeoisie, which helped the two brothers working in a cumfortable financial situation.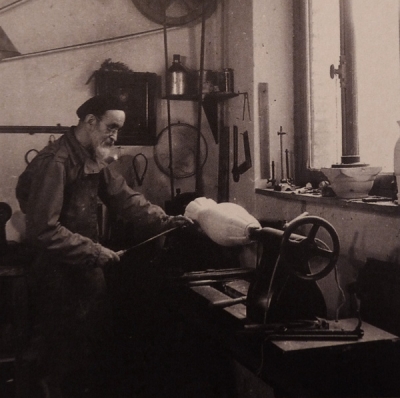 At the earthenware factory, tensions were growing over the years between the owner and Joseph, who was known for his strong temperament. In 1933, Joseph left the company, marking a break with his brother who chose to stay. But without Joseph, Peter lost his motivation and three years later, he left too. Pierre ended his life in a rest-home where he died in September 1955, while his children chose different paths. But Joseph managed to get on with his art, thanks to the help of his friends and family. He became obsessed with his research on enamel, emphasing his work on materials rather than shapes. As his health deteriorated, his children were there to help him in his task, inheriting his "passion of fire". Joseph died in November 1961. His daughter Odile, after studying fine arts in Nancy, becomes an acclaimed ceramist in abstract expressionist style. Francis, the youngest son, is attracted by decorative paints; his masts enamels show abstractions with subtle colors. He also teaches ceramic in Longchamp. Bernard Mougin dedicates his life to sculpting, which allows him him the win the first second Grand Prix in Rome before getting in touch with great statuary, mainly using bronze and marble. Finally, John, the eldest, is passionate about art history, and promotes the work of his father.