What's new ?
Sidebar
Superb vase "Au Gui L'An Neuf" on sale at ARTCURIAL Paris - november 24th 2015
An exceptional glazed ceramic vase titledAu Gui L'An Neuf goes on sale (lot 11) at Artcurial. Another vase of the same model is shown in Musee de L'Ecole de Nancy.
Sale will start on November 24th 2015 at Hotel Marcel Dassault, Paris, France from 7PM GMT+1.
For more information and to see the catalog : ARTCURIAL
New sale of Mougin pieces - ARTCURIAL Paris - 13 october 2015
Following the success of the previous sale, ARTCURIAL is showing 5 new pieces by Mougin in a new sale named Intérieurs du XXe siècle - Art déco & design. The most beautiful ceramic probably is no.147, Base lamp "Hart's tongue", a superb piece of Art Nouveau work born from the rare and exquisit collaboration between Louis Majorelle (vice-president of l'Ecole de Nancy) and Mougin brothers. But there are more beautiful creations in the catalog : vase "épi" (lot 148) and vase "Palmettes" (lot 192), table lamp "Marine" (lot 191), and a big vase (lot 149) .
Sale will start on Tuesday, October 13th 2015 at Hotel Marcel Dassault, Paris, France from 3.30PM GMT+1.
For more information and to see the catalog : ARTCURIAL
Exceptional auction on Joseph Mougin works Paris - May 26th 2015
BREAKING NEWS : Vase "Aimer, rêver, souffrir" reaches 14.300€ (fees included). It's a global record for Mougin's works !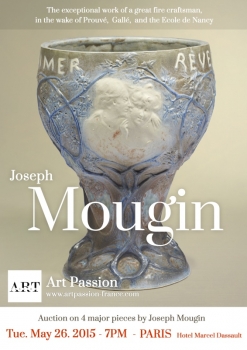 Brothers Joseph (1876-1961) and Pierre Mougin (1880-1955) are among the iconic artists from Art Nouveau and Art Deco eras, contemporaries of the Ecole de Nancy.
Faithful friend of Victor Prouvé, one of the founding members of the School, Joseph Mougin chose, like Victor's son Jean Prouvé a few years later, to keep a certain distance with the association, but remained very marked by its influence.
While Jean Prouvé chose architecture and design, Mougin dedicated himself very early to sculpture and ceramics. Mougin brothers' early works combine crystallizations with glazes, a keen eye for detail with an undeniable lyricism. As the Art Nouveau aesthetic is at its highest peak, it is between vegetable naturalism resulted in the sandstone, and female symbolism such as porcelain figures that Mougins express their art. Not only do they show their own works, but Mougins will also publish, thanks to a glowing reputation, many other artists work throughout their careers.
ARTCURIAL is, as part of a big auction gathering Art Deco pieces, selling four major pieces from Joseph Mougin's work, including the exceptional basin titled "Aimer, rêver, souffrir" ("Love, dream, suffer") : a magnificient stoneware with extremely rich material effects and a composition full of symbolist nuances and subtlety, served by a printmaking technique that evokes the work of Rodin. The catalog also includes "mistletoe" vase and two sculptures sublimating the theme of women, born from a collaboration with Albert Finot: the "The Wave" jardinière , and the beautiful vase titled "Three Women".
The auction will be held on May 26th, 2015 in Paris, Marcel Dassault Hotel, 7.00PM.
For more information and to download the catalog : ARTCURIAL